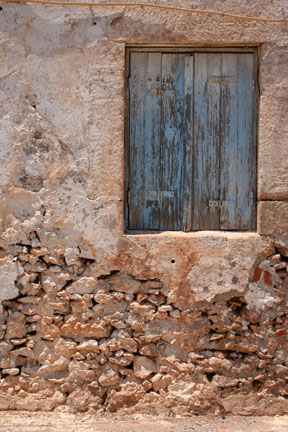 According to the artist who took this photo, (Nikos Koravos | @Dreamstime):
"A lot of deserted houses can be found in the island of Kythera, Greece, most of them in a very bad condition."
In Washington, DC in a really bad snow storm, people have been known to abandon their cars on the Beltway and just walk away from them.
Similarly to the people of Greece, I'd guess, are the accounts I've seen (in the news) of people—who are so 'upside down' on their mortgages—they simply walk away from their homes without telling anyone.
I've always wondered how bad a situation has to be before it's better to walk away than fix things.
Here's Your Prompt:
Write about someone who walks away from something– a house, a car, a marriage, a job, a pet, a family. What are the reasons for doing so? What happens to everyone involved?

You (or a character in your WIP) come across a deserted house. What do you find there?

Similarly, it's a late summer evening and you decide to go for a ride. Top down, or windows open—music blaring—you take to the road. Without realizing how you did it, it's later than you think, and darker than it should have been, and you find yourself on a deserted stretch of road. You run out of gas. What happens?

No discussion of deserted is complete without thinking about a deserted island. Here's the twist: you knew it was deserted, that was the whole reason for you packing up and moving there. (Hey, peace and solitude to write that Great American Novel!) But now you realize, it's not deserted. And whatever is there, won't rest until it gets you.

Do you journal? Or, are you writing stories for family history? Write about the time you were deserted, or you deserted someone. For example, did you ever forget to pick your child at school? (Or were you the one forgotten?) Did you ever bail on a family gathering? Did anyone ever storm out after an argument?

Good Luck!