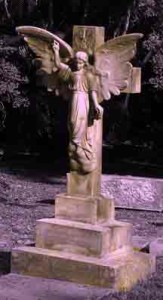 Today is Be An Angel Day, as declared by Reverend Jayne Howard Feldman. Feldman, who has written several books about angels, established Be An Angel Day in 1993 to encourage people to perform random acts of kindness and to help those in need.
Feldman's theory is that my guardian angel led me to her page — looking for peace in my life — and ultimately, to writing to you about it. (Though her web site is a bit of a mixed bag – it could as likely be the fairies who led me there, or a bit of numerology.) Regardless, there were forces at work.
(Between you and me, I was searching for the founder of Be An Angel Day and that's how I found Feldman's page.)
Here's Your Prompt:
Create a scene in which your character is led to a revelation due to the intervention of a guardian spirit. (Beware this revelation coming at the end of a story. Your character must still work hard to achieve his goals or it will be unsatisfying to the reader. Avoid: Deus ex machina.)

Flip the guardian notion on its head: perhaps your character has an "assailing" spirit rather than a guardian one. What kinds of danger does it lead your character into? Physical danger? Temptation? One of the 'seven deadly sins' – anger, greed, sloth, pride,lust, envy, and gluttony?

Think of a time when someone was your "guardian angel." Write about how that person helped you. Or, write about a time when literally, your guardian angel (or spirit) was at work.

Write a poem about helpful spirits. A spirit could be an angel, a ghost, a fairy, etc. Or, flip it and write about unhelpful spirits.

Write about the angel in Hartley Coleridge's Early Death: "Love was her guardian Angel here, But Love to Death resign'd her; Tho' Love was kind, why should we fear, But holy Death is
kinder?

Good Luck!
Have you read The Dragon's Clause?
For hundreds of years, San Marino paid tribute to the dragon living beneath their mountain city. But no one alive remembers him. Despite the existence of a contract, the town refuses to pay this year. When the residents renege on the deal, they must face the wrath of the beast.