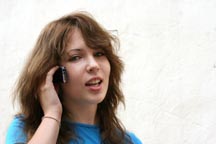 Hello.
Bonjour.
Ciao.
Shalom.
Nǐ hǎo.
Cześć.
Hallo.
There are a ja-billion™ ways to say hello—and its equivalent—in a ja-billion™ different languages.
'Sup?
Good Day.
Hey.
Greetings are a mixed bag. Formal situations call for formal greetings. (How do you do?) Early morning salutations differ between chipper folks (Good Morning!) and those who need a few more cups of coffee (unintelligible grunt). Greetings between good friends ride the scale between none at all, and hopping right into conversation (Did you see what Jenny was wearing last night? I wouldn't be caught dead in that!) to downright insulting. (You look like shit. What happened to you?)
Here's Your Prompt:
Write a short story which begins with a single word of dialogue: "Hello." The greeting can be in any language. What happens?

Write a poem about greetings, salutations or beginnings.

We have certain expectations for greetings. What if you were greeted differently than expected? For example, your coach shook your hand, but your pastor slapped your butt? Write what might happen if this happened to you.

If you journal, write about a time when someone greeted you in an unusual way. What happened?


Good luck!