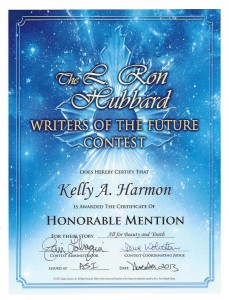 I just received my certificate in the mail from the Writers of the Future contest. Another Honorable Mention – this time for my story, All for Beauty and Youth, which I hope to see published next year.
All for Beauty and Youth is my first foray into steampunk, and I had a lot of fun writing it. I stayed away from zeppelins and goggles, and instead focused on trains and clockwork creatures.
It's been accepted for an anthology due out next year, but I haven't received the contract yet for it. Until that materializes, I don't want to mention the anthology.
I'm fairly sure that I'll find a place for it, even if the expected contract doesn't come through. I'll keep you posted.