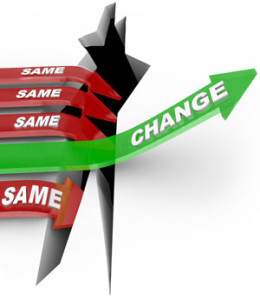 Old habits die hard.
It's a bit of cop out here to rely on tired aphorisms, but it gets my point across succinctly.
A change of habit–getting out of one's rut–can take a monumental effort of strength and will. Creating new habits can take the same. (New Year's resolutions, anyone?)
But from a fiction writing standpoint, they offer so much fresh material–so much potential for a character to grow and experience–that it might be worthwhile to add it to your Writer's Toolbox. (You may prefer, to do as I do, and add it to your arsenal instead. 🙂 )
Consider a character with an ingrained habit. Perhaps every day on his way to work, he walks three blocks on Franklin Street, catches the Number 9 bus which takes him downtown, gets off at the industrial center and takes the company taxi into the plant.
What if whether by chance, fate or choice, he's late getting out of the house. He misses the Number 9, and has no choice but to take the Number 11 instead? Eleven will drop him off at the industrial center, but not before first driving to the docks to let off folks who work around the Harbor. It will make him 30 minutes late, but it's better than waiting another 45 minutes for the Number 9 to come back around.
Your character's routine is entirely off. What will he experience along this route? Maybe it makes him change his point of view about something. He decides to make a life change. Or maybe the Number 11 bus gets hijacked. Either way, he's out of his comfort zone, and something new–for better or worse–is about to happen.
Here's Your Prompt:
Write a story in which your main character is forced to abandon his or her habit. What happens?

Write about a character who deliberately changes his or her routine, hoping for the better. Make things worse for him or her.

Write a poem about change or habit. What are the emotional repercussions?

If you journal, write about something you've changed for the better, or something you changed for the worse. If worse, tell how you alleviated the new problem. If better, relate the steps you took to maintain it.

Good Luck!
Have you read Lies?

The Queen lies dying, and the mage-physician holds the key to her health, but he doesn't quite know how to use it. The Book of Lies has the capacity to heal, if only Beresh can write the proper words. But only a few pages remain in the book, and if they're used before the queen is healed, she won't be the only one to lose her life!

Short-Listed for the Aeon Award.