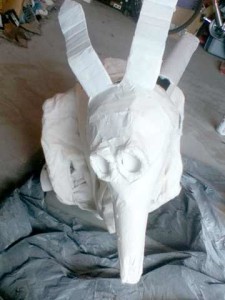 Halloween is coming! It's my favorite holiday of the entire year.
My candy's bought, my house is decorated, and I'm chomping at the bit looking for activities to extend it a little. Tonight, the Husband of Awesome™ and I will be handing out candy at the local elementary school and watching their costume parade. I can't wait.
I'm working on a prop for tonight: Zero, Jack Skellington's faithful ghost hound. I sculpted his head from newspaper, tinfoil, masking tape and styrofoam. Today, I'm spray-painting him white.
I should have covered him in paper mache before painting, but I ran out of time. I've been procrastinating.
Ahem.
I've also been procrastinating on my writing. I haven't even turned on my laptop for THREE days!
My word count is not looking too hot this week, unless you count all the non-fiction… (And who counts that?) The 'Zero' project–and other Halloween stuff–has kept me pretty busy.
Here's Your Prompt:
The main character of your WIP has a secret vice that makes him procrastinate. What is it? How might this procrastination up the tension in your story? Write it.

Essayists: Thomas de Quincey said, "If once a man indulges himself in murder, very soon he comes to think little of robbing; and from robbing he comes next to drinking and Sabbath-breaking, and from that to incivility and procrastination." Is procrastination worse than murder?

Procrastination eats away at our time, slowly eroding this valuable commodity. Poets: write about time. (Artists! This one works for you, too: show us time.)

For journalers and essayists: What have you been putting off? Why?

Good luck!