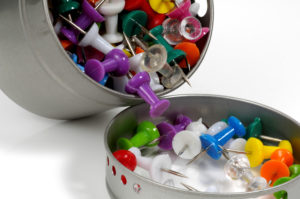 As part of my "obsession" with planning, I've tried a few planner subscriptions this year, using money I received for Christmas. I love getting things in the mail, so a subscription that delivered planning supplies right to my mailbox was doubly exciting.
A Cloth and Paper subscription appealed to me because they bill themselves as providing "luxury" planning supplies. The subscription was pricy: $100 for three months. But if I received quality, engraved, luxury items – as the advertisement seemed to imply – I figured the cost was worth it.
Short Review:
The items were mostly luxury, but often not planner related.
Some things appeared luxury, but were of poor quality.
Many items were not even useful.
Customer service is lacking.
All in all: Not recommended — especially if your objective is to outfit your planner.
I should caveat that my recommendation to stay away from Cloth and Paper has more to do with expectations than the quality of (most of the) actual items received. Also: I was very disappointed with my one customer service experience.
Now for a more detailed review:
When you sign up for a Cloth and Paper subscription, you're asked what size planner you own (so they can send things to you in your planner size) and also for your name or initials (or whatever) you'd like engraved on the items that are mailed to you.
How exciting!
However, not once in my three-month subscription (January – March) did I receive an item that would fit in my planner. Nor, did I receive anything engraved with my name. All planner items received were "odd" sizes. Many of these items remain in their shipping box, as I have no idea where—or how—to put them to use.
The Boxes
In January I received: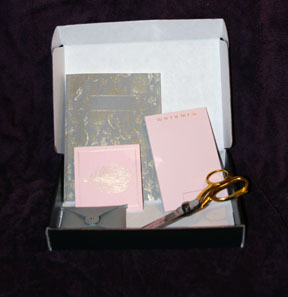 a pair of brass handled scissors – with a nut and bolt so large connecting the two halves it's comical. The scissors do cut well, but are quite heavy and are not something I'll carry with my planner.
a "hand crafted" change purse – made of a material I can't identify. Because it's constructed by folding, rather than sewing, there are gaps in the bottom two corners. The top folds over like an envelope, also creating gaps in the top corners. It's "sealed" with a button.
a brass pen – which didn't write. The pen is heavy, which I personally prefer, but others may find writing for long periods with it to be difficult.
a 5 x 8 notebook with unlined paper. I have a personal preference for lined paper, so this notebook didn't appeal to me. It's also "perfect bound" which means that it won't lie open flat.
a smaller notebook- also unlined, meant to be kept in your purse or bag. In all these months, I haven't had an occasion to use it, even though I carry it with me.
Note that none of these items are true "planner supplies." All items are stamped or engraved "Cloth and Paper" or C&P — not my initials.
I was too lazy to send a note about the pen that didn't write, but I remedied that when the February box came in.
In February I received: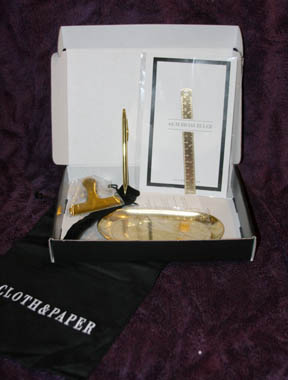 a 6-inch brass ruler
a brass desk tray
a brass binder clip
a gold-toned pen that looks suspiciously like a "Cross" knock-off.
Again, nothing for my planner, and all the engravings are "Cloth and Paper" or "C&P."
I was quite disappointed with this shipment. I'm not likely to use any of these items, except perhaps the clip just to try it out. I suspect that it will fall off in my purse and relegate itself to the "useless" pile. Brass is not my thing, so I won't be using these items on my desk.
Because I didn't like the shipment, I contacted Cloth and Paper via email to ask if I could exchange the box for something else. While I was at it, I asked if they could send me a refill cartridge for the January pen which didn't write.
A C&P representative wrote back promptly. There were a few back and forth messages to verify which pen cartridge I needed and the rep said that I could exchange the box.
Happily, I wrote back and asked how we could make the swap.
In the next email exchange, the rep changed her tune: she said that she had made a typo. She'd meant to type "can't" not "can" about being able to exchange the shipment, and that no exchange of the February box was possible. And that was that. She did send two refill cartridges for the pen (about a week later) however.
In March I received: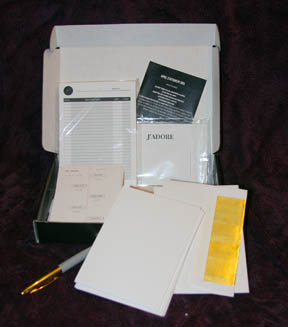 sticky notes, all of which have the company name "J'adore" printed—large and bold in black ink—across the top. These are neither luxurious nor plentiful (containing about 20 pages on the pad). They're small—and the logo takes up a lot of space. I wonder if these were a "freebie" that the C&P people received from elsewhere and charged their subscribers for? They're neither luxury nor quality. Frankly, I'll have to use these as "throw aways" because they really can't be used with correspondence with the large logo on top.
Phone Message Pad – which is printed on VERY high quality card stock. But the cards are white and the printing is gold and that makes the form very difficult to read. These are so wasteful, when you consider their use.
Expense Pad – This is one of the places where C&P could have gotten things right by sending me something in 5 x 8. Instead, the pad is 4 3/4 x 7 which doesn't fit well in my planner.
Weekly Agenda Cards – Again, printed on heavy card stock. These might be useful on special occasions, such as when you're at a conference and want a quick schedule you could use at a glance. I don't think I'll find these useful on a weekly basis (although some other folks might).
All in all, I was highly disappointed with the subscription. My expectations were that I would receive planner supplies to match the size of my planner and that some of the things would be personalized.
Overall: not recommended. While the luxury of most of the items is not in question, the functionality is. Spend your money elsewhere, where you can choose the exact items you want or need and which will fit in your planner.