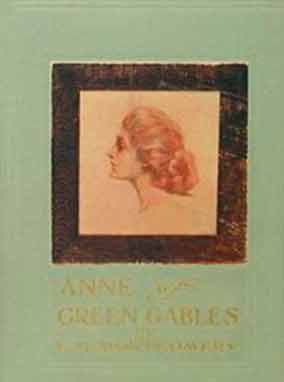 I'm reading Lucy Maud Montgomery's Anne of Green Gables currently as part of my Project 100–and I'm quite enjoying it. Anne is an imaginative, talkative , young girl of ten who is forever getting into scrapes brought on by her flights of fancy. As the book begins, she's adopted by a quite sensible spinster woman whom Anne refers to as Aunt Marilla.
Aunt Marilla is a dried up, middle-aged woman who lacks imagination and sucks the life out of people with her discreet and circumspect habits. Sensibility is her motto, and fun takes a back seat to decorum every time. She's unfashionable, and dresses Anne like a mini version of herself.
But little by little, Anne wins her over. As the book progresses we see Aunt Marilla untwisting her panties and enjoying life a lot more–even though she'd thought adopting Anne had been a mistake from the beginning: she'd asked the orphanage for a boy.
I was just starting to like Aunt Marilla. But near the middle of the book, Anne–now thirteen years old–starts a "literary club" with some other young women. They are required to write one story "out their own heads" each week, and then meet to read them aloud to each other and critique them.
(My kind of party!)
When Anne tells Aunt Marilla, the aunt replies: "Reading stories is bad enough but writing them is worse."
Oh, boo, Aunt Marilla! I don't like you again.
Nonetheless, Marilla (sort of) brings up a good point: we can't always write fiction. So, in honor of that, today our prompts are non-fiction related!
Here's Your Prompt:
In honor of family–natural, adopted and chosen–lets write family stories in a variety of styles:
Choose a memorable event that you were involved in that your family was not: being away at camp, attending a concert, something on your bucket list, etc. and write a letter home telling all about it. Be certain to include all the parts of a letter: salutation, body, closing and signature.

Write a newspaper story about a BIG family event: a milestone anniversary or birthday, a wedding, a graduation, etc. Here's information on how to write a news story.

Write a journal entry of your earliest memory. Ask family members for their input on what they remember of the same event and incorporate that into the narrative.

Flip through some old family photographs and choose one or two of the same day that evoke strong memories for you. These strong memories could be good or bad, it doesn't matter. Just find something you're passionate about one way or the other. Use the photos as the basis of a scrapbook entry. Lay them out on the page and decorate with magazine clippings, fancy paper, bits of ribbon, etc. Finally, journal about the events of the day. Include your not only the facts of what happened, but your feelings on the topic.

Good Luck!