I'm in Massachusetts for the next day or so, celebrating with my friend Trisha Wooldridge for the launch of her debut novel, The Kelpie
.
Since I've never been to Massachusetts before, she's taking me around and seeing the sites (in between book stuff and writing) and it's been loads of fun.
First we went to The Doctor Seuss National Memorial Sculpture Garden to see some sculpture created of the characters in his books. (I LOVE Dr. Seuss!) The Gardens are part of the Springfield Museums, so we got a chance to tour there also.
Despite the terrible fog, I managed to grab a few photos.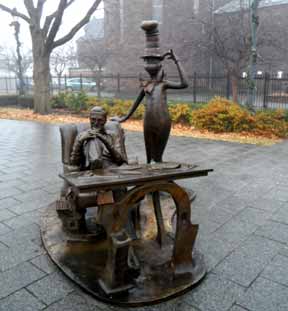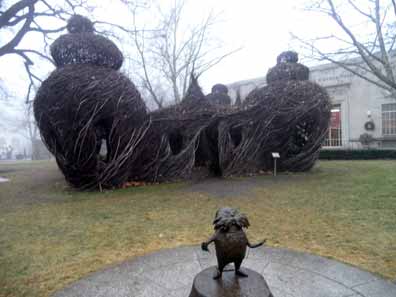 The natural structure behind the lorax here–not really part of the Seuss exhibit– was created by planting and weaving saplings together. I'm told that in the spring and summer it's beautifully green. It's large enough to wander through. There's a lovely little arbor in the center that would be perfect for a wedding.
This 'stickwork' sculpture was created by artist Patrick Dougherty and contains over eight tons of saplings. Doesn't it look like something Dr. Seuss would have drawn?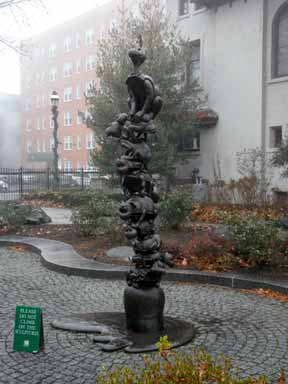 Yertle!
But the best part of last night was dinner. I experienced a culinary delight the likes of which I'd never experienced before! "The Burger" was topped with bacon, 1000 Island dressing, red onion, lettuce, tomato, pickle, Monterey Jack and cheddar cheeses AND a fried egg.
Yum!
Apparently, it's a Massachusetts thing. I loved it. I can totally see this as a breakfast food.