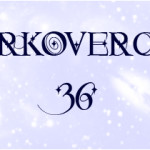 I'll be in Timonium, MD Thanksgiving Weekend for the last-ever Darkover Convention.
I don't expect to have a table, but I'll be carrying paperback copies of my novel and short stories from my publisher for you to touch and feel (or buy). 🙂
Here's my schedule:
FRIDAY
4:00 – 5:00PM: Military SF – Why Should You Read It? – What does Military SF contribute to the SF genre? Is its contribution more than merely entertainment value? Are there stories or themes that Military SF tells better than other SF sub-genres? Discussion should include examples and recommendations.
7:00 – 8:00PM: "Show, don't tell!" – This is an age-old piece of advice from writers. What the heck does it mean? Is it important for writers (including screenwriters and playwrights) to understand this advice? If so, why?
SATURDAY
10:00 – 11:00am: Katherine Kurtz: The Deryni Effect – When Ballantine began its Adult Fantasy line, Katherine Kurtz's Deryni Rising was their first title by a modern Fantasy author. Authors and fans discuss why they think the Deryni series has been so popular and received such widespread acclaim.
12:00 – 1:00PM: Jaelle's Memorial – Held in Atrium (Just Attending)
4:00 – 5:00PM: Autograph Session
5:00 PM – Broad Universe Reading with Danielle Ackley-McPhail, Margaret Carter, Meriah Crawford, Elektra Hammond, Erika Satifka, Vonnie Winslow Crist, Leona Wisoker, and Sarah Pinsker.
6:00 – 7:00PM: The "Woman with a Sword" Phenomenon – Take your pick: from Robert E. Howard's "Red Sonya" (a 16th Century Russian warrior-woman) to Marvel's "Red Sonja" (a swordswoman of the Hyborian Age); from C.L. Moore's "Jirel of Joiry" (a wandering Fantasy swordswoman) to J.A. Pitts's "Sara Beauhall" (a Urban Fantasy lesbian blacksmith) and Revolution's "Charlie Matheson". And it seems that dozens of new book covers feature pictures of sword-wielding, leather-clad women. Why the attraction? Is "the woman with a sword" motif a guaranteed "winning combination" for a writer or an artist?
SUNDAY
12:00 – 1:00PM: Short Stories vs. Novels: Does Size Matter? -How does "word count" affect the writer's craft? Writers discuss different strategies and goals when writing short vs. long fiction. Pinsker(M), Ackley-McPhail, Crist, Harmon, Sonnier.
I hope to see you there! Please drop by and say hello if you're around.
Also:
The Con Needs Volunteers!
If you can help out, see this Darkover Volunteer Page. Every hour you volunteer, can earn you a dollar off the admission to next year's First Annual Chessiecon.