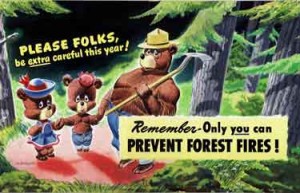 Happy Birthday, Smokey the Bear!
I have a fondness for Smokey, and it started long before I started work at the USDA. There's just something about his forlorn seriousness, captured in so many US Government posters, that tugs a little at my heart strings.
Smokey the Bear gets his name from "Smokey Joe" Martin, the assistant chief of the New York City Fire Department from 1919-1930. He was first painted by Albert Staehle in 1944, then by others, most notably Rudolph Wendelin who painted images of Smokey from 1949 until his retirement in 1973.
The National Agricultural Library in Beltsville, MD has an on-going exhibit of Smokey Posters, and their Special Collections Unit has so much more available for perusal in the stacks (you'll need to make an appointment). You can read about the Library's Smokey the Bear Collection here. (Scroll down for some great pictures!)
Smokey's message remains the same after all these years: Only You Can Prevent Forest Fires – though there were some additional messages along the way, like during war time — "Careless matches aid the AXIS" — mostly faded now into history.
The Library's Smokey the Bear Collection consists of 115 linear feet of stuff, including 20 map case drawers, 53 boxes, and over 100 films.
I've used information in the the container list for today's prompts. It's not a long stretch to see how forest fires might have some far-reaching consequences. A little carelessness can go a long way.
Here's Your Prompt:
The following slogans come from Smokey the Bear posters through the years. Use one or more of the phrases as a leaping off point for a scene, poem or short story.
Feel free to deviate. For example, substitute some other crisis or disaster for fire. Or, substitute another place in lieu of a forest.
Careless matches aid the AXIS.

Fire means less schools, roads, tourists, game timber and higher taxes.

Another enemy to conquer. Forest fires 9 out of 10 times can be prevented.

A forest's future is in your hands.

Please be careful with the future.

Think.

Every tree is a family tree. So, please help Smokey.

Forest Fires catch fish, too.

In the time it took to grow this tree, we grew a country.

Good Luck!