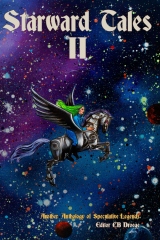 Just a quick note to say that I have a reprint published in Starward Tales II, a collection of short stories, poems, legends, myths, and fairy tales as science fiction. It contains my story, All for Beauty and Youth.
I share the Table of Contents with many fabulous writers, including: Monica Rose Song, D.A. D'Amico, squiddosnazz, Mike Lewis, Michael Harris Cohen, Virginia Frances Sterret, Eddie D. Moore, Richard King Perkins II, Dianne Williams, Robert Tokley, R.W.W. Greene, María Castro Domínguez, Patrick S. Baker, Virginia Frances Sterret, Halli Lilburn, Chanel Earl, Dick Yaeger, Benjamin West, Tod McCoy, Marsheila Rockwell, Ashleigh Gauch, squiddosnazz, Karen Bovenmyer, and Vonnie Winslow Crist.
(This is the third anthology that Vonnie and I share this year, which is simply amazing. She and I are also co-editng an anthology, Dark Luminous Wings, which will be available in October!)
Starward Tales II is only available on Amazon right now. You can find it in Kindle and Paperback editions here: Starward Tales II: Another Anthology of Speculative Legends
I don't have a story in the original antho, but if you're interested, here's the link for Starward Tales, Volume 1.
If you prefer an audio version, Volume 1 is out: Starward Tales, Volume 1: Audio Edition.