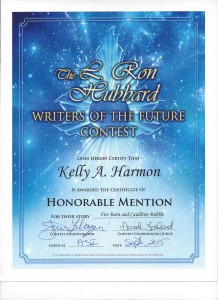 I posted this on Facebook last week, but forgot to mention it here: I just received my certificate from Writers of the Future for my story, Fire Burn and Cauldron Bubble. It's a wonderful little tale about witches who create the best steel cauldrons in the world–but their entire operation is put in jeopardy when the dragons fail to produce fire hot enough to make the steel.
I had a lot of fun writing it.
I'll be sending it off to other markets in hope of placement. Keep your fingers crossed!