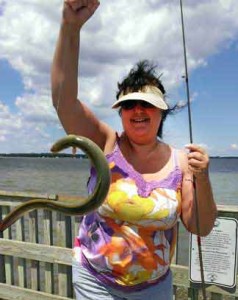 I finally got a chance to go fishing with my Dad this summer, and what do I catch? An eel.
This one was about two feet long, and as big around as a homemade kielbasa. It pulled like hell, bringing it in. I thought it was a much larger fish, but my dad could tell right away what it was, dancing across the water as I reeled it in.
I've never caught an eel before, and I must say, I was vastly disappointed.
Except: now I've got more fodder for stories. This thing will come up somewhere, I'm certain.
I never knew eels were so slimy. Yeah, I knew there was a slime factor involved, but not *this* slimy. I swear.
While taking it off the hook it wrapped several times around my arm. I let the slime dry there, thinking I could brush it off, or wash it off easier once it dried.
Not so: there was no brushing it off, or even peeling it, like a facial mask.
I had to resort to washing. And when the dried slime got wet? It reconstituted. Ew! I had to scrape it off. Soap did not cut it.
Definitely story fodder there: Perhaps human-sized zombie eels able to spit venomous slime… Maybe land-walking eels with slime that burns through everything, who come to take over the world (or at least summer camp. A good horror story always starts at summer camp, eh?)
I've got to think about this…