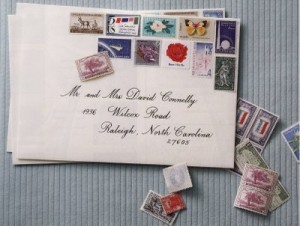 Hey Friends and Family!!
I finally got my Christmas Cards out this morning.
Mom taught me that my Xmas cards should be perfect and beautiful, that I should use a Christmas stamp, that I should take my time so that you know I did my very best for you…
Sorry, Mom. Here's the deal:
This year, some of you will receive cards that I've used in the past. I got rid of all those leftover ones and twos that have been hanging out for years. Apologies in advance if you received the same card you got last year – I did my best to remember.
Also: With this Christmas mailing, I was able to get rid of my entire stash of 32 cent stamps, 37 cent stamps, 42 cent stamps, and a variety of "make up" stamps such as the "H" class, as well as nearly all my 1 cent, 2 cent, 3 cent, 4 cent and 5 cent denominations.
Some of your cards will have an excess of seven stamps on them to make up the difference. (The stamp collectors among you should be salivating.)
I actually had to buy 4 cent stamps at the post office this morning! Please note that it is a sign of how much I care about you, that I actually stepped foot into the Hell which is the post office during Christmas season.
The good news is: I get to buy all new holiday cards next year for you to receive. And since I own only "forever" stamps now, they'll all have a single, pristine Christmas stamp on them.
See how much I care about you? Love to you all…and Merry Christmas!


~~~~~~~~~~~~~~~~~~~~~~~~
Image 'borrowed' from: www.storkie.com.