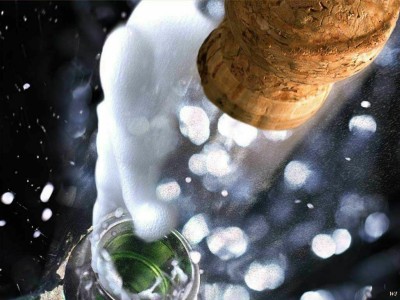 Happy New Year!
I wish you peace, joy, prosperity and health in 2017!
Also: I wish you fulfillment of all your goals.
Did I mention resolutions? Nope.
I don't believe in resolutions. Resolutions are something most people make between the countdown to the new year and the champagne they drink at 12:01. Almost no one sticks to their resolutions. I gave up making them more than a decade ago.
Instead, I make goals for the new year. I plan — which is not to say that things never hit the fan and life is golden. Things do happen, and I miss goals, but I generally get more accomplished than if I'd not planned to begin with.
I've been planning 2017 for a few months now, both personally and professionally, and made a few decisions about what I'll be concentrating on in 2016. If you haven't done any planning yet, use January as your planning month and move forward from there. It's not too late.
Begin by Reviewing Your 2016
Always review last year (last month, last week) to see what you accomplished and what you could do better. Here are some questions to think about:
– What major events happened in 2016?
– Finish a book? Publish a book? Attend a convention or writing retreat?
– What big and small goals did you accomplish?
– Learn how to self publish? Write cover copy? Use a new social media venue?
– What challenges did you overcome?
– Speak in public? Submit a story to an agent? Finish a short story?
– What could you have done better?
– Spent more time in the writing chair? Listened to your critique group or editor about something? Concentrate on area of writing: dialogue, grammar, scene setting?
– Have you become a better writer in any way?
– Finished more scenes? Wrote more words? Took a grammar or spelling class? Studied dialogue?
Even if you're not a writer, you can use these questions to plan, just consider them outside the writing angle.
If you're not a writer, consider:
– What big things happened in 2016?
– What large and small things did you accomplish?
– What did you overcome?
– What could you have done better?
– Have you become a better (husband/wife/co-worker/fill-in-the-blank) in any way?
Next, Decide What You Want to Do
Now, consider what you want to be. I know that's a bit vague, but planning your goals will depend on what you want to be at the end of the year.
– Do you want to be a better writer? If so, what is your definition of "better?" Find your voice? Improve your grammar? Write more words? Accomplish more chapters? Finish more books?
– For non-writers (or, even for writers who want to tackle both professional and personal goals: do you want to spend more time with your family? Lose weight? Improve a particular skill? Etc.
Be specific here. You can't plan effectively if you don't have a specific goal.
For example: "Lose weight" is not a specific goal. Instead, consider, "Lose 10 pounds by March." For writers, instead of "Write more," try, "Write 10,000 words per month."
Once you have a specific goal, you can break it down into smaller steps. Work on those steps daily, and you can accomplish great things.
Are you like me? There are too many goals on your list for this year? That's where prioritizing comes in. I'll write about that next week…
I hope you'll plan with me this year. Some of my goals include:
– Increasing my word-count production by 10%
– Writing a non-fiction book (as well as the fiction and short stories!)
– Taking a class on marketing
What do you hope to accomplish this year? Leave me a note in the comments! =)