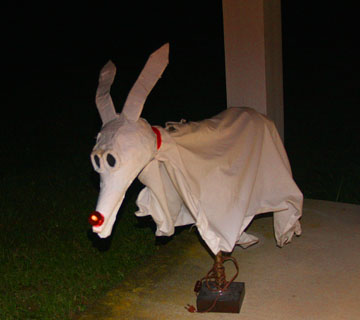 Happy Halloween!
A few folks mentioned that they would love to see my finished Zero sculpture. Here he is! He looked a little better pre-rain, but I don't think he turned out all that bad (considering I'm in no way an artist).
He was certainly a big hit with just about everyone who saw him tonight.
The head was the hardest part, and I did that in about two hours. It's molded from newspaper, tinfoil, styrofoam and masking tape. His body is an old pillowcase that I cut open. I hemmed all the rough edges and then ran some pliable wire through the hem. This enabled me to 'bend' his body into waves so that it wouldn't hang straight down…and look like an old pillow case. It really looked cool when the wind blew.
I wish the flash hadn't washed the photo out so much: his nose really glows in the dark. This photo doesn't do it justice.
I hope everyone had as much fun as I did tonight! And I've got chocolate left over: it doesn't get any better than that!